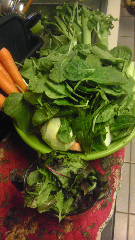 OCT 30,2012 Juice: 4 carrots,2 cups baby spinach,2 cups of baby mixed greens,1 lemon peeled,2 Valencia oranges peeled,4 pieces of celery stalks, 10 cloves of garlic, 2 knuckles of Ginger, 6 pieces of fresh turmeric,6 baby mini sweet bell peppers,1 cucumber,2 small sweet potatoes,2tbl spoons of Cayenne pepper......
I reuse my produce bags and cover my detachable pulp basket, makes super easy to clean.
I have a pantry shelf with spots for baskets of fruit, vegetable bowls, juicer, as well as other pantry staples like chia seeds, nuts and grains.
This handsome little Boy picked the fruits he wanted, help me scrub the veggies, he help clean the counter and made juice for himself and his little brother. Hilan is 3 years old
My Husband on the Left, Me on the Right...... we packed our lunch and had it on the go on one of our busy weekends.