There are several things to prep before starting your juice fast. Here is my long check list:
1: having a working juicer is very important:
There are so many out there. How to choose what works for you. For me there were several things I needed mine to do. Give me the most juice for my veggies and fruits, including leafy greens. I wanted it to juice nuts ( to make almond milk). Easy to clean, easy to work with.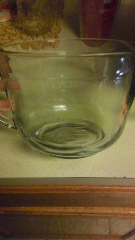 2: fruit bowl
: (I don't like to make trips, so I gather all my fruits into a bowl), juice bowl ( if you are making more than 32 oz at a time)
3: Mason jars.
.. To store your juices. Very important to have good working lids, with seals.
4: vegetable scrub brush
; to scrub your vegetables as well as to clean your juicer after every juice adventure.
5: clean wash towels
...
There's going to be spills
... Trust me I don't care how careful you are, there will be spills and accidents.